Posted 11 hours ago | By Sam Robinson
Unfortunately, Week 5 brought more major injuries. It also included a rare early-October GM firing. Here are some odds and ends, and grades, for every NFL team exiting the NFL's fifth Sunday — along with a look at the bevy of teams that did not play Sunday.1 of 32
Carolina defense ahead of schedule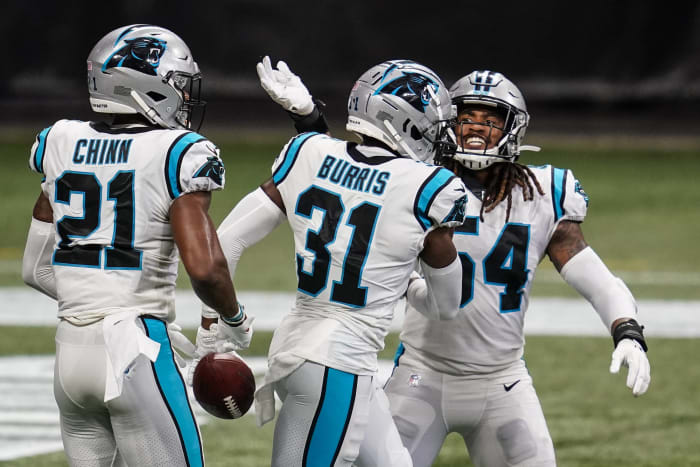 A list of the defensive personnel the Panthers lost this year: future Hall of Famer Luke Kuechly, No. 1 cornerback James Bradberry, steady sack man Mario Addison and former Pro Bowl defensive tackles Dontari Poe and Gerald McCoy. Carolina entered Sunday with starting cornerback Eli Apple on IR and lost corner Donte Jackson and D-end Brian Burns during the game. Buoyed by journeyman Juston Burris' end zone INT, the Panthers (3-2) held the Falcons to their lowest point total in this series (16) since 2015. First-year NFL coordinator Phil Snow's defense, which kept Kyler Murray in check last week, has been one of the NFL's bigger surprises.
PANTHERS GRADE: B-plus | NEXT: vs. Bears (Sun.)2 of 32
Full-on restart in Atlanta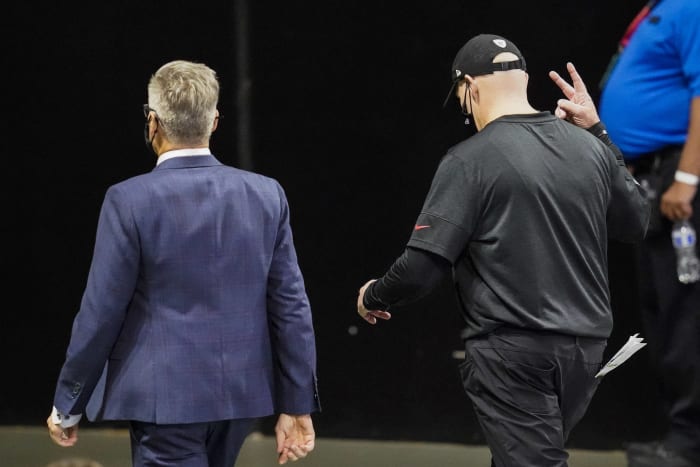 Thomas Dimitroff was in his 13th season as Falcons GM. He drafted Matt Ryan, traded up for probably the best player in team history in 2011 (Julio Jones) and was there for three Falcons playoff byes. The team has declined since its Super Bowl LI collapse and is 14-23 since 2018, but the early-season GM firing is a bit of a surprise. Dimitroff's ouster moves the franchise closer to a restart — which separates this from merely Dan Quinn being axed. Ryan is now 35; will he be part of the next era? If the Falcons do not land Trevor Lawrence, will they make a play for a QB? A franchise that has not rebuilt since 2008 appears set to do so.
FALCONS GRADE: D-plus | NEXT: at Vikings (Sun.)
Wentz-Ertz disconnect clouds TE's Philly future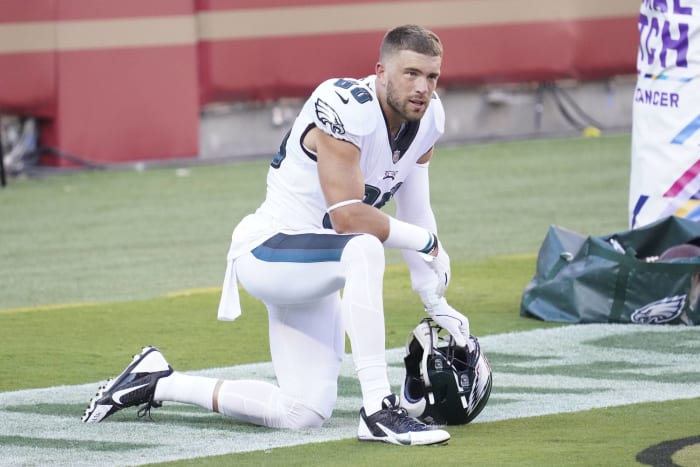 The Carson Wentz-to-Zach Ertz connection's issues have forced random wide receivers to the forefront. The Pro Bowl tight end submitted a second straight sub-10-yard performance and has not helped the again-in-wideout-disarray Eagles (1-3-1) during a stretch without Dallas Goedert as well. One of the many Eagles nearing 30 or just north of that notable benchmark, Ertz (30 in November) has amassed just 145 receiving yards in five games. He was seeking George Kittle– or Travis Kelce-level money amid tense negotiations this summer. Wentz's former go-to guy will struggle to approach that at this point.
EAGLES GRADE: D | NEXT: vs. Ravens (Sun.)
Chase Claypool's expected breakout arrives early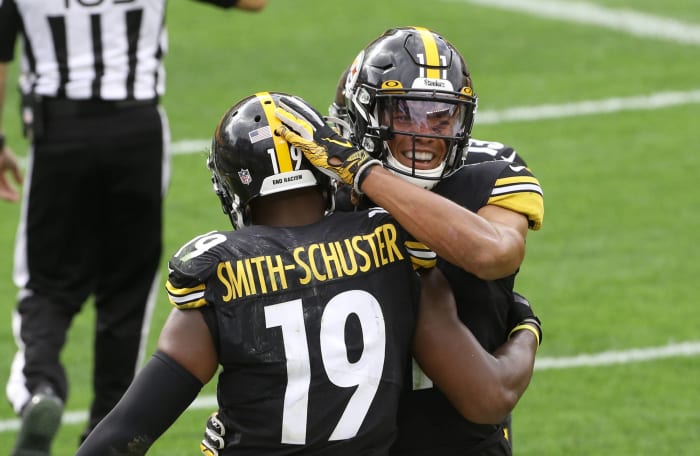 Steelers viewers could have predicted a Claypool emergence, but the team's receiver depth had limited his chances. The second-round pick changed the equation Sunday, dominating the Eagles for seven catches, 110 yards and a Steelers rookie-record four total touchdowns. No team approaches the Steelers in receiver development, and their latest find — Notre Dame's 6-foot-4, 238-pound monster with a 4.42 40 time — could have a rare ceiling that surpasses most of the team's previous Day 2 wideouts finds'. Claypool has quickly become Pittsburgh's most exciting pass catcher; his rapid emergence makes this an elite NFL position group.
STEELERS GRADE: A-minus | NEXT: vs. Browns (Sun.)
To continue reading the full article, click HERE.