Long before Derrick Henry became a star for the Tennessee Titans, one win from a Super Bowl, he was a stud running back at a small high school outside Jacksonville, Florida.
As a freshman at Yulee High, he already was 6-foot-3 and more than 200 pounds.
And fast.
And really, really good.
"My perfect run," high schooler Henry said in a 2012 TV interview, "is probably getting through the hole trying to run over somebody, [use] three or four stiff arms, bounce off probably one of my linemen, and just beat someone to the outside and score."
As a senior in 2012, Henry shattered the longstanding high school record for rushing yards. Three years later, he won the Heisman Trophy at Alabama.
"The entire time Derrick was playing high school ball," his high school quarterback said, "he was preparing himself for the next step."
Here's a look at Henry's epic prep football career, in the words of his high school coach, teammates and others:
---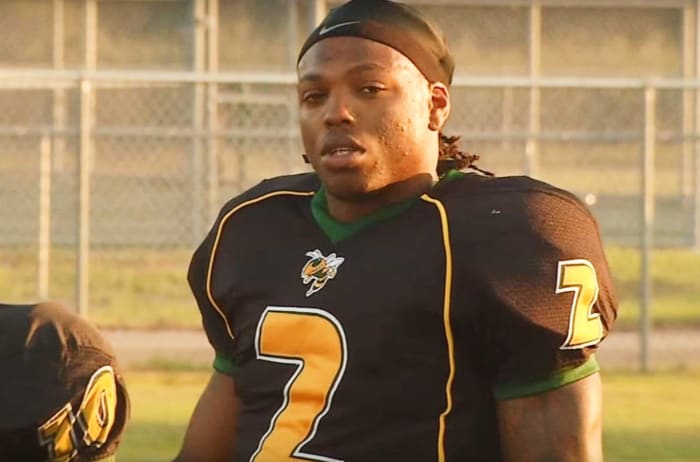 "He seeks out people who have his best interest in mind," says Bobby Ramsay, Derrick Henry's high school football coach. Courtesy of Michael Kelly, WJXT-TV
Jake Green, Yulee High School linebacker and defensive team captain, Class of 2011: "Everyone from this county to the next county and all the way to Jacksonville knew who he was before his freshman year."
Bobby Ramsay, Yulee High School head coach, 2008-2016: "I was hired in 2008, the year before he got there, and I was 28. My first head job. I thought I had all the answers. I knew [the team was] bad, but I saw us practice and I thought, 'I don't know if I can do this.' I hired my running backs coach, Pat Dunlap, the middle school offensive coordinator, and we were talking, and he says, 'We'll be all right next year when Derrick gets here.' I think, '…Cool, some 7th grader?' After spring football one day, I'm leaving practice discouraged and our middle school was right across a ditch from the high school, and I see the kids. Maybe 5-foot-6, 5-7, 5-5, then 6-2. I say, 'Oh. That's Derrick. Maybe we'll be alright after all.' "
Green: "In Pop Warner, we knew it. I definitely watched the man grow up. He was a close friend of mine. Everyone here, we called him his nickname, 'Shocka.' In Pop Warner, he was the first person ever to give me a stinger in my shoulder. We were doing Oklahoma drills, 1-on-1 tackling drills, and this kid in Pop Warner, he was already almost 6-foot-1 but real skinny and fast. We had to pop up, tackle the guy in front of you, and unfortunately for me, it was always him on the other side. He gave me my first stinger, and I thought I broke my arm. The feeling started down in my toes."
Justin Barney, sports editor of WJXT4 and News4Jax.com, former Florida Times-Union sportswriter: "Talking to his family often, I remember his aunt saying he was so big as a kid. When he was 2, he looked 5. When he was 5, he looked 10. It was staggering to see how big he was. He was dunking when other kids couldn't touch the rim. But I don't know anything extreme. I don't know that he lifted a burning car off a kid."
Green: "I believe he got offered to go to Bolles [a private school in Jacksonville] — and if you go to Bolles, you get offers and rings — but he was loyal to his home. Instead of being our rival, he chose to fight them and stay with us and be the underdog. That right there was where I gained my respect for him. I know other people, if they were to get the same offer, they wouldn't have stayed. It says something about his character."
In four seasons at Yulee (Fla.) High School, Derrick Henry rushed for 12,124 yards, a national high school record. Courtesy of Michael Kelly, WJXT-TV
Even with Henry's prodigious talent, he was still just a freshman for Yulee, and the Jaguars already had a returning starting running back. Henry's hold on the starting position seemed tenuous at best.
Conner Petty, Yulee High School quarterback, Class of 2011: "I remember going into the season, there was a question, 'Who is our running back going to be?' It seemed like there might be some speculation. He got thrown into varsity, and his first game, he has 190 yards and six touchdowns. In the first half."
Ramsay: "I took him out at halftime, and I really don't know why I did that. Maybe the only time I ever did that."
Petty: "I remember coach Pat [Dunlap], who passed away from lung cancer recently and was very close with Derrick … being on the sideline [that day] saying we needed to pull him. He was saying this is going to be a Boobie Miles situation."
By Week 2 of his freshman year, the Yulee coaching staff fully understood the kind of talent it had in Henry. At that point, the coaches didn't just hand the keys to the car to Henry. They rebuilt the car to take advantage of Henry's talent.
Barney: "I've done this since 1998; my first game was Week 2 of the '98 season, and at that time, there was a guy name Ciatrick Fason. I think he beat the area record of 6,912 yards set by Willie McClendon. He was a four-year player, big back, ran hard. Having covered him, we've seen a pretty darn good running back, and I don't know if we'll see someone comparable. Then a guy named Maurice Wells came in — later signed with Ohio State — and he was the only guy to hit 3,000 yards in one year. After that, Tim Tebow came along, and he started a spread phase here, and I thought, 'We're never going to see a four-year back again.' Then Derrick came in, and he was otherworldly."
Clayton Freeman, Florida Times-Union sportswriter: "Through his first month, he had 730 yards and 10 touchdowns. I'm pulling up an article from 2009 now: 'Henry is a freshman but certainly doesn't look or play like one for the Hornets. The 6-4 bulldozer at 215 pounds is punishing opposing defenders. … He's in that Brandon Jacobs mold. [Jacobs played for the New York Giants.] He also has deceptive speed for as big as he is. It gets late in games, and I can tell opposing defenses are tired of tackling him.' The size, the speed on top of the power and the way he kind of sledgehammered defenses to death — that really hasn't changed very much."
Ramsay: "He understood the game really well for a ninth-grader. One game late in the year, I called timeout. We're trying to score to win it, talking about plays, and the offensive coordinator suggested something. Derrick said, 'Coach, we did that two weeks ago and they got us.' I was like, 'Oh yeah, how'd you remember that?' Players who are that good, they see the game a little differently."
Petty: "Our offense was built to do anything. We could line up in spread, empty if we wanted to. That was in the playbook. But when you have a running back like that, it makes play-calling pretty easy. I jokingly tell people it'd be 3rd-and-15, and instead of running play action or a pass, it was a toss [to Henry]. Only I'm not joking."
To continue reading this article, click HERE.
By Jon Gold | Last updated 1/17/20