Posted 2 days ago | By Chris Mueller
Week 7 of the NFL season marks the debut of Le'Veon Bell in Kansas City, and brings the league one week closer to Antonio Brown's reinstatement, an event that already has potential suitors lining up. The Cardinals, fresh off a drubbing of the Cowboys, get a chance to show that they're for real in the NFC West when they take on unbeaten Seattle, while the Patriots try to even their record at 3-3 and build momentum after an uneven start that has them looking up at the majority of the AFC. Tom Brady gets a Monday night showdown with Jon Gruden, while the Steelers and Titans meet in a battle of unbeatens, with the victor gaining the inside track to the AFC's number one seed. All members of the NFC East are also playing games this week, too, but wouldn't it just be best if we tried to avoid that fact altogether?
(BYE: Indianapolis, Miami, Minnesota, Baltimore)
Point spreads are from BetOnline.ag, and are current as of 11 a.m. ET Thursday.
NOTE: Pick with spread is in bold.
Last Week: 6-8 Season: 46-44-11 of 14
NY GIANTS (1-5) AT PHILADELPHIA (1-4-1) (Thursday, 8:20 p.m. ET)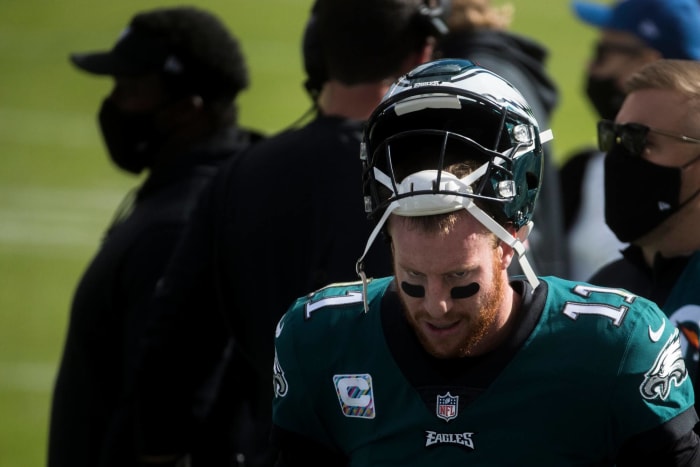 TV: NFL NETWORK Line: Philadelphia -4.5
---
What you need to know: There isn't much to say about the Giants, who got their first win of the season last week against Washington. The offense is still anemic, but if you're a glass-half-full type, it is worth noting that the defense is playing well of late, particularly against the run; three of the Giants' last four opponents have failed to crack 100 yards on the ground. The Eagles gave a good accounting of themselves against Baltimore, very nearly pulling off a stunning comeback after falling behind 17-0, but they didn't, and now find themselves at 1-4-1 on the year. Incredibly enough, that's good for second in the NFC East, and well within striking distance of the Cowboys. Now that Dak Prescott is out, the Eagles ought to win the division, but for that to happen, Carson Wentz has to re-establish himself as one of the league's better quarterbacks.
On the spot: Giants TE Evan Engram . Engram has caught just 57 percent of his targets this year, and has yet to catch a touchdown. That's not good enough for someone thought to be one of Daniel Jones' most dynamic targets.
Eagles QB Carson Wentz: Wentz wasn't great against the Ravens, but overall he played by far his cleanest game of the year. For the Eagles to turn their season around, Wentz has to find a way to bring his "A" game every week.
The pick: Eagles 27, Giants 16
DETROIT (2-3) AT ATLANTA (1-5) (Sunday, 1 p.m. ET)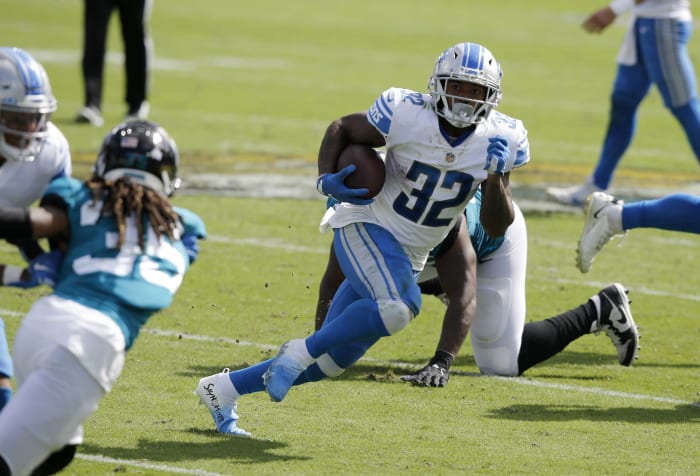 TV: FOX Line: Atlanta -1
---
What you need to know: The Lions are lingering around the edges of the NFC playoff picture, and a win in this game would put them in good position to challenge for a wild card spot, with over half the season remaining. Detroit's problem, in a word, is consistency. The Lions look great to start games, but can't finish; even individual players have it happen. D'Andre Swift, who went over 100 yards last week, dropped a sure touchdown pass that cost Detroit a win in Week 1. Matt Patricia needs to find a way to bring out the best in his team week after week, or else it will be a typical lost season for the Lions. Atlanta might not be quite as bad as their record suggests, but they are still massively deficient on the defensive side. The Falcons are particularly bad against the pass, which means that this game could also feature a Matthew Stafford breakout. Atlanta already doesn't have much to play for this season, barring a sudden dramatic turnaround at the top of the NFC South,
On the spot: Lions RB D'Andre Swift. Swift reached 100 yards last week in minimal action, but Atlanta is strong against the run. Swift is starting to siphon carries away from Adrian Peterson, and if he plays well again, could start to put a tight grip on the starting running back gig.
Falcons RB Todd Gurley: Gurley has looked solid, if unspectacular, this season. He's coming off his worst game of the year, however, and if the Falcons are going to make some sort of midseason push to respectability, he needs to be at the forefront.
The pick: Lions 34, Falcons 31
CLEVELAND (4-2) AT CINCINNATI (1-4-1) (Sunday, 1 p.m. ET)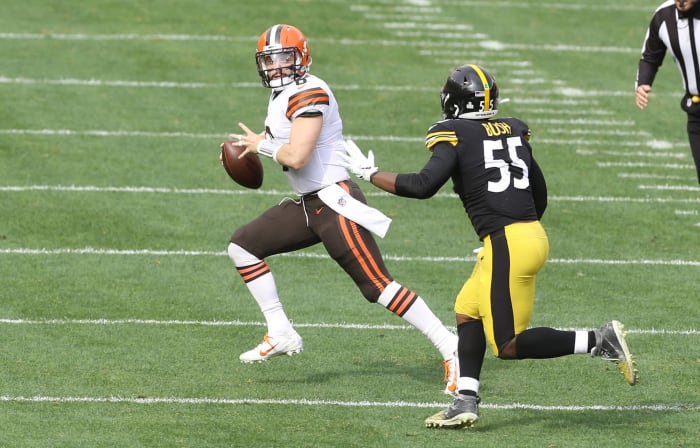 TV: CBS Line: Cleveland -3.5
---
What you need to know: Baker Mayfield hasn't been good, despite Cleveland's 4-2 record. He was wretched against the Steelers, staring down Austin Hooper on what turned into a Minkah Fitzpatrick pick-six, and never looking comfortable in the pocket. At some point, and probably soon, Mayfield has to start playing better or Cleveland is going to have to confront the fact that their search for a franchise quarterback is ongoing. If Mayfield's play is worse than his team's record, there is an argument to be made that Joe Burrow is performing better than Cincy's 1-4-1 mark indicates. Burrow's numbers aren't great, and he hasn't thrown a touchdown in his last two games, but he's hanging tough despite taking plenty of hits, and still completing his fair share of passes down the field. Cincinnati isn't a good team, but the early returns on Burrow are more encouraging than not.
On the spot: Browns QB Baker Mayfield. Mayfield's game against the Steelers was Pro Football Focus' third-lowest-graded performance by a quarterback this season. He has been totally ineffective in traditional drop-back settings, and if he doesn't turn things around fast, will deserve to be benched.
Bengals FS Jessie Bates III: Bates has an interception and is allowing just a 30.8 passer rating when targeted this year. If Cincy is going to spring an upset, they could use a splash play or two against a quarterback prone to giveaways.
The pick: Browns 31, Bengals 23
To continue reading the full article, click HERE.