Posted 17 hours ago | By Pat Heery
It's time for everyone's favorite preseason exercise: Awards predictions. Here's who I anticipate will win and be in the running for each of the major award categories (Most Valuable Player; Rookie of the Year; Most Improved Player; Sixth Man of the Year; Defensive Player of the Year; Coach of the Year; and Executive of the Year) at the end of the 2020-21 NBA season:
Most Valuable Player: 1) Luka Doncic, Mavericks
Is Luka Doncic the best player in the NBA? Nope – that title still belongs to LeBron James, and it's not particularly close. Will Luka have the most impressive stat line this season? Doubtful – Giannis Antetokounmpo will probably replicate or improve upon his historically great regular season in 2019-20. Then why is Luka the top MVP candidate heading into this season? First and foremost, because he's awesome – he's basically James Harden if Harden was fun to play with and enjoyable to watch. Because there's perpetual voter fatigue with LeBron and about to be voter fatigue with Giannis. And because Luka is a player on the rise, and MVP voters love to get distracted by a shiny new object. 
Most Valuable Player: 2) Giannis Antetokounmpo, Bucks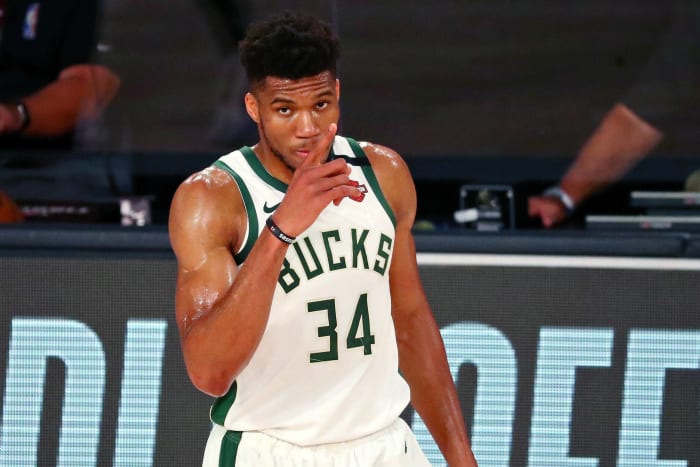 Giannis Antetokounmpo will probably "deserve" his third straight MVP this season, but the question is: Will voters judge him on this 2020-21 season alone? Or will they allow his past two playoff flameouts to cloud their opinion of him until he wins a title? ( As a LeBron James fan, voters better do the latter – voters have changed MVP criteria damn near every season since 2014 to avoid giving LeBron's his fifth MVP!! But I digress…)  Kidding aside, Giannis had an insane regular season last year, averaging 29.5 PPG., 13.6 RPG., 5.6 APG., and finished with the highest Player Efficiency Rating (31.86) in NBA history. If he comes close to matching or somehow surpasses his performance from last season, he deserves every MVP vote he receives.
To continue reading the full article, click HERE.