Posted 15 hours ago | By Sam Robinson
Patrick Mahomes widened the MVP gap; the Colts continued their November climb; and the NFC East is creating historically strange drama. Week 11 produced one of the season's most eventful Sundays. Here are the grades for every team, along with odds and ends on every team entering Monday night.
1 of 32
Offense-reliant Packers sloppy in Indiana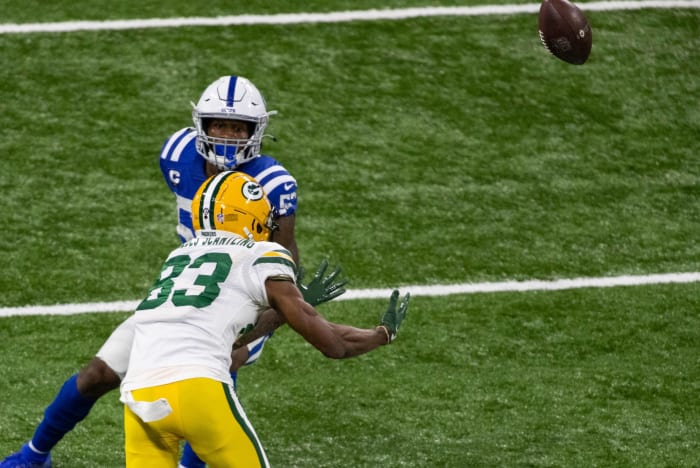 For all the resources poured into upgrading their defense, the Packers still depend on Aaron Rodgers carrying them. The quarterback icon only had a part in two of Green Bay's four turnovers in their overtime loss, but Marquez Valdes-Scantling's slip-up shows the tightrope the Packers walk against top competition. Although they beat the Saints in Week 2, the Packers (7-3) have only played one team that entered with a winning record — the Colts. Sunday's loss may not be a precursor — with one winning team left on the schedule (the Titans) — but the Packers have issues to fine tune before January.
PACKERS GRADE: C-plus | NEXT: vs. Bears (Sun.)
2 of 32
Defensive resurgence showcases Colts' legitimacy
After allowing 28 first-half points, the Colts' second-ranked defense allowed for a Philip Rivers and Co. rescue effort. The Packers scored zero second-half points until an OT-forcing drive, but even that ended well for the Colts. Indianapolis (7-3) keeping Rodgers from leading a Packers final-minute escape, and newcomers Julian Blackmon and DeForest Buckner teaming up on the Colts' biggest turnover this season, showcased this franchise's resurgence to a near national audience. The Colts did not make mistakes signing Rivers or trading a first-round pick for Buckner. This is an enhanced operation back on course after 2019's predictable step back.
COLTS GRADE: B-plus | NEXT: vs. Titans (Sun.)
3 of 32
Flashback moment pauses Bengals rebuild
Nearly 15 years after Carson Palmer's ACL tear sidetracked one Bengals rebuild, their latest effort is now on hold. The Bengals are now 2-7-1, and Joe Burrow's ACL tear pauses everything. Cincinnati brass put its QB prize in peril, doing little to improve an offensive line essential to the 2-14 season that sent Burrow back to Ohio. Two Washington defenders sandwiching the rookie will make for a somber final six games — if Ryan Finley's first seven-plus NFL halves are any indication — and could put Zac Taylor's job in jeopardy. A patient Bengals franchise will face a tough choice on a coach who will have a terrible two-year record by year's end.
To continue reading the full article, click HERE.